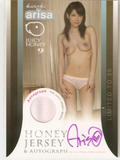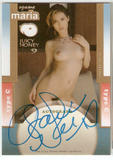 Juicy Honey 9 new arrivals. I realize that "Auto & Jersey" is just the same grading and type as an Auto 10 Colors in JHSE. For an "Auto & Jersey" card, the jersey must come from the little panties :) plus a nice idol's signature on the card.

Finally receiving Hina's Auto Type B, so now Auto A, B, C & D are all in my collection. For the Rookie Autograph, I beat I would be able to get it (or I will never see another one in the online market…)

Maria's Autograph Type D (limit to 10). It's so lucky to get it.
Related posts