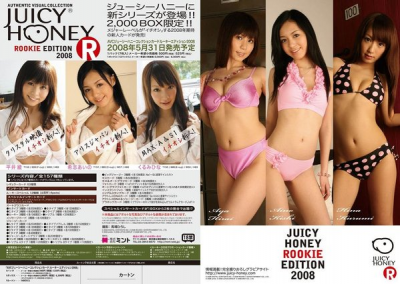 Arguably the best series Juicy Honey has released to date. All three AV idols used in the inaugural Rookie Edition are amazingly beautiful. Although it seems Hina Kurumi has retired from her AV activities, Aya Hirai and Aino Kishi are still going strong and releasing some very hot videos.
Limited to 2000 boxes, with a 63 card regular set and 12 card SP set. The rare inserts were reduced in number [see checklist pic] because of only three idols and 2000 boxes but still great odds to pull some rare items. As typical of Juicy Honey the cards are good quality with a nice variety of pictures. The theme that came across to me in this set was kind of like a "new student" feel. All the pictures are of the ladies are indoors and each one cosplayed as a schoolgirl. I particularly like the design on the auto cards where there had shopped in a little piece of notebook paper to the card where the girls would sign.
Checklist:

On with the cards. First up is the regular set of 63 cards. After that I will make a page break and post the rest of the SP, promos, and some awesome inserts. You'll have to click the post header to view those.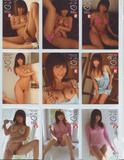 The 12 card SP set + Promo cards pr1-pr6:

These are all of my current insert cards. I have more on the way but they didn't make it in time to post to this article; including an Aya #/10 message card, Hina 1/1 auto photo, Hina 1/1 auto cheki and an Aino 1/1 auto photo. :D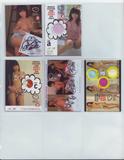 http://aya.crystal-online.info/  – Aya Hirai
http://blog.livedoor.jp/kurumihina/  – Hina Kurumi
http://blog.livedoor.jp/aino_kishi/  – Aino Kishi